2021.3.1
"SAKURAO GIN ORIGINAL" and "SAKURAO GIN HAMAGOU" are awarded GOLD in "World Gin Awards 2021"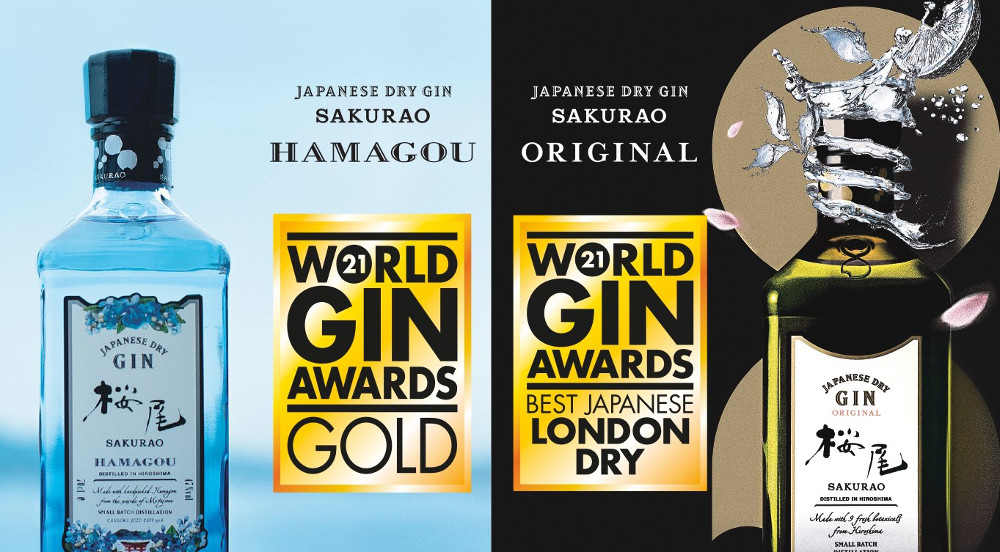 "SAKURAO GIN ORIGINAL" and "SAKURAO GIN HAMAGOU" are awarded GOLD and COUNTRY WINNER in the London Dry Gin category of the global spirits competition "The World Gin Awards". The award which SAKURAO GIN ORIGINAL (COUNTRY WINNER) awarded is given to the best products in each category and country.
■ What is "The World Gin Awards"?
"The World Gin Awards" is a global spirits competition held by "The World Drinks Awards" in the United Kingdom. More than 800 brands entered from all over the world are judged by well-known journalists, bartenders, beverage writers, etc. and "World's Best" in each category, and "Country Winner" by country, "Gold Winner", "Silver Winner" and "Bronze Winner" will be selected.
Besides of gin, there are various competition such as whisky, vodka and so on held by them and it is one of the world's leading competitions where many brands gather together.
Among them, Japanese brands have been receiving high praise in late years, and they have won numerous awards at competitions held in the United Kingdom and the United States, that's why "Japanese whiskey" and "Japanese spirits" are recognized as one category in the world.
Official Web Site: https://www.worlddrinksawards.com/spirits
SAKURAO GIN ORIGINAL
A craft gin that utilizes 9 kinds of botanicals, including fresh citrus from Hiroshima, and is distilled using a combination of steeping and vapor methods. Besides 9 kinds of botanicals from Hiroshima, 5 kinds of imported botanicals such as juniper berry and coriander seed are also used for SAKURAO GIN ORIGINAL. The fusion of a citrus-like aroma with the traditional taste of gin is the most distinctive feature of our original gin.

■ Contents : 700ml
■ Category : Spirits
■ Alcoholic Content : 47%
SAKURAO GIN HAMAGOU
Hamagou has been known for its beautiful fragrance from long ago. We have selected Hamagou from Miyajima and blended it with other botanicals, and distilled using a combination of steeping and vapor methods. You can enjoy this craft gin with a refreshing fragrance.

■ Contents : 700ml
■ Category : Spirits
■ Alcoholic Content : 47%
Owing to the people who support us, the botanical producers, the brand ambassadors, and the land of Hiroshima where the blessings of nature, we were able to receive such an award. We will continue to challenge the world under the theme of "from Hiroshima to the world" "tradition and innovation."